January 13, 2021 By Glass Canada Staff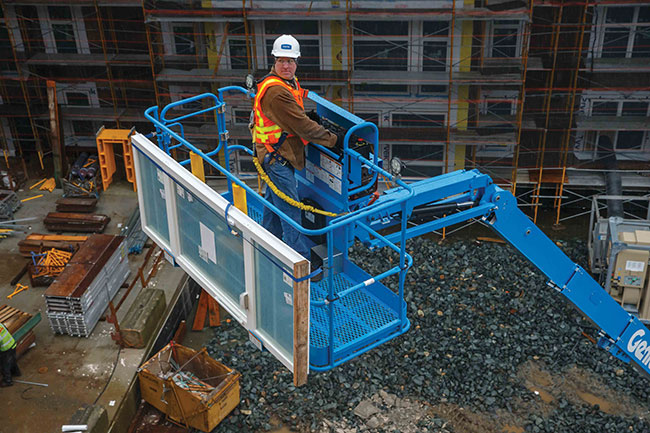 Elevated work platforms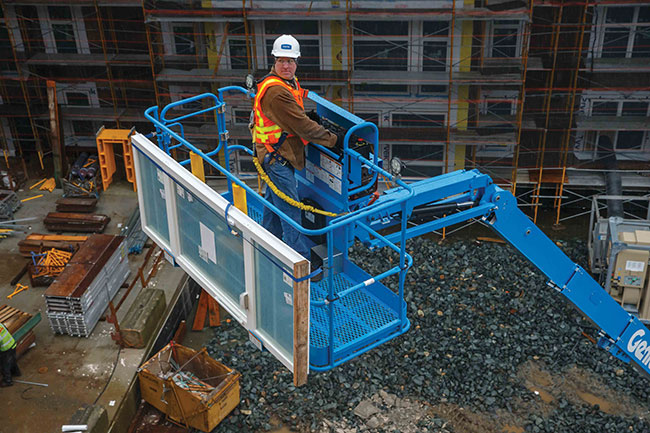 Panel carrier available
genielift.com
Right-sized for completing work-at-height applications such as general construction, maintenance, inspection and painting tasks, the new Genie S-60 J telescopic boom lift offers the essential performance that operators need, including an unrestricted platform capacity of 660 pounds, allowing for two occupants plus tools. With a standard six-foot jib, the Genie S-60 J boasts a compact, low-weight design at 16,650 pounds. This keeps ground pressure low when operators are working in more sensitive conditions. The S-60 J is well-suited for use in general construction, maintenance, inspection and painting tasks. Platform height is 60 feet, 10 inches and horizontal reach is 40 feet, six inches. Ground clearance is one foot, 10 inches. Glaziers will appreciate the Genie Boom Panel Cradle accessory that allows operators to place materials outside the platform for access at height. It includes the cradle, two foam cushions and a load retaining strap. It's useful for lifting drywall, glass panes, plywood and other material that comes in panels up to 250 pouns. The combined weight of the attachment, panels, occupants and tools must not exceed the platform rated capacity.
---
Super swing stage
winsafe.com
The SuperMod modular suspended platform system is designed for strength and safety. A modular approach with maximium flexibility ensures that there is always a stage configuration available that will suit the application. On straight platforms, lengths of up to 48 feet, 9 inches are possible, with longer configurations using a hinge section and three hoists. Section lengths of 1/2, one, two and three metres let users build a platform to suit their needs. Cantilever platforms come in lengths of up to 62 feet, three inches with walk-through stirrups. Maximum separation for the stirrups is 48 feet, nine inches. Maximum cantilever is two meters beyond the stirrups. Corner platforms with 30-, 45-, 60- and 90-degree angles can be built with SuperMod using the hinged corner frame, drop-in truss, floor and handrail frame set. With the hinge section and four stirrups, it is possible to build a platform that will surround three sides of a structure. Even circular platforms can be achieved using three walk-through stirrups and eight 45-degree corner sections. SuperMod is built in North America for North American conditions with stronger trusses and stronger connectors make a smooth-riding, long-lasting platform.
Steel U-frames provide a rigid frame and steel stirrups have the strength to take jobsite conditions. Steel has 1/3 the flex of aluminum, providing a more rigid, better-riding platform.
The aluminum trusses weigh about the same as European trusses, but the toeboard is two inches shorter. The extra material is used in the bottom chord, making it extra thick. Add-ons include platform hinge sections; oversized stirrups for larger body casing hoists; bumper rollers; swivel casters; adjustable incline rollers and incline stirrups for working on sloped surfaces; and manual wire winders.
---
Up and over
snorkellifts.com
The Snorkel 2100SJ is Snorkel's largest diesel telescopic boom lift with patented design features. With an impressive reach and lift height, its exceptional up-and-over capabilities offer a maximum horizontal reach up to 100 feet with a 30-foot jib boom. Two control panels on the platform allow for safe operation while working at height. A robust four-wheel drive and multiple steering modes deliver superb rough-terrain performance with a tight inside turning radius for excellent manoeuverability. Its innovative wheel extension and narrow wheelbase provide stability on the job and ease of transportation. The 2100SJ 's maximum working height is 65.8 metres with a 300-kilogram platform capacity and overall weight of 36,300 kilograms. It comes with a built-in panel carrier as standard.
---
Feature-packed
jlg.com
JLG has introduced its expanded range of high-capacity HC3 boom lifts. Available now are the 400S, 460SJ, 600S, 660SJ and 860SJ HC3 models, while the 450AJ, 600AJ, 800AJ and 800S HC3 booms are set to roll off production lines in the coming months. HC3 boom lifts offer an expanded work envelope and three capacity zones for greater reach than competitive models offering one or two capacity zones. In fact, HC3 models are rated for three occupants with tools in all three zones. The boom lifts include the 40-foot platform 400S HC3 model and the 46-foot platform 460SJ HC3 model, while the 600 Series HC3 models consist of the 600AJ HC3 and 600S HC3, each delivering a 60-foot platform height, and the 660SJ, which boasts a 66-foot platform height. Meanwhile, the 800 Series HC3 booms include the 80-foot-platform-height 800AJ HC3 and 800S HC3, and the 86-foot 860SJ HC3. All models offer 750- and 1,000-pound restricted capacity zones. The 400 Series, 600 Series and 800AJ models also offer a 660-pound unrestricted capacity zone, while the 800S and 860SJ have a 500-pound unrestricted capacity zones. An innovative load-sensing system from JLG limits operation of a machine when the platform is overloaded, automatically keeping operation within the allowable work envelope. The zero-calibration system on all HC3 models eliminates the need to use external weights to calibrate the lift. This saves time and effort, while increasing productivity. New LED displays improve visibility of the platform and ground consoles during operation. The displays sense ambient light conditions and adjust brightness accordingly, helping maximize visibility and operator comfort. Additionally, an innovative chassis tilt alarm alerts the operator when the machine is on a slope that exceeds five degrees. While the new HC3 boom lifts are heavier than their standard model counterparts, they retain the same footprint for ease of transport and use in comparable work environments.
---
New mast-climber
manitou.com
Manitou offers the new VJR 26 vertical mast platform in its elevated work platform product line for the North America market. The new Manitou VJR 26 vertical mast platform incorporates innovation and technology into the design of the machine to focus on safety, performance and low-cost maintenance. Compact and manoeuverable, this model consists of a vertical telescopic mast, electric travel motor and a perforated steel basket meeting. With a 350-degree turret rotation, it offers operator's greater flexibility and access with minimal repositioning. The compactness of the VJR 26 work platform allows operators to pass through most industrial doors accessing work heights up to 32 feet with an impressive reach of 10 feet, four inches.
The VJR 26 vertical mast design ensures great stability thanks to its centre of gravity located in the lower area of the chassis. The telescopic mast technology delivers a compact structure, which increases visibility of the machine and the work environment during operations by the operator in the basket. The controls in the Manitou VJR 26 are simple and intuitive for quick familiarity. They are equipped with safety features including load and tilt sensors as well as an anti-entrapment system for additional safety. Standard with a 24-volt battery, the VJR 26 offers enough autonomy for a complete day of work and ensures many years of service life. The lifting structure using telescopic booms reduces maintenance thanks to the reduction of moving parts. The operator can easily access the battery and hydraulic components by unlocking the latches of the turret cover. An added benefit to the VJR 26 is its ease and safety of transportation. Two fork pockets are located on the platform to allow a forklift to load and transport the machine sideways. This allows loading of the machine top of a trailer faster and safer. Machine maintenance is simplified with a self-diagnostic panel at ground level to quickly detect fault codes. Manitou's telematics system gives the ability to manage the unit's location, maintenance cycles and service warnings and comes with a two-year/2,000-hour warranty. These machines are fully supported and available at Manitou dealerships across the United States and Canada.
---
Handles uneven surfaces
haulotte-usa.com
Designed for working in challenging environments and tackling the most demanding projects, the HT46 RTJ O/PRO shares the same design and performance characteristics as the other models in the Haulotte RTJ range. Incorporating Haulotte safety standards and latest innovations, the new telescopic boom provides a dual-platform capacity along with four-wheel steering and is ideal for work up to 16 metres high. The latest addition to the RTJ range is an outdoor telescopic boom designed for versatile applications: heavy construction, finishing, maintenance, sports and other events. It perfectly combines efficiency with excellent all-terrain ability. The HT46 RTJ O/PRO easily climbs over obstacles and slopes up to 45 percent. Operators can elevate on uneven surfaces, even with a significant tilt angle of five degrees, whatever the boom angle. The operator-controlled locking rear differential allows maximum traction in the most difficult rough terrain situations. Proportional controls guarantee smooth operation and precise movements on the way up to the work area. The new telescopic boom operates anywhere, even on the roughest terrain. It features four-wheel steering. In four-wheel steering mode, the turning radius is shortened, enabling the driver to manoeuver in tight areas. Crab mode facilitates motion in all directions, making it easier to access the work area. The HT46 RTJ O/PRO is a reliable machine combining robust design with ergonomic controls and integrating Haulotte's exclusive innovations, ActivLighting System and ActivShield Bar, for optimal safety.
Haulotte has paid attention to the strength and reliability of the materials used in its new machine. All of the high-quality components come from market leading suppliers. The controls cover and tray are made of ultra-solid composite material and pins are protected against corrosion. Its ergonomic control box with joysticks enabling proportional commands offers improved driving comfort. Up to four movements can be cumulated. In line with other RTJ equipment, the new telescopic boom embeds a high-performance lighting system. Haulotte ActivLighting System guarantees impressive visibility for safe loading operations in low-light conditions. The lights integrated in the machine design illuminate the driving zone and both control panels. The Haulotte ActivShield Bar system, integrated into the control panel, reduces the risk of overhead crushing injuries. In an entrapment situation, the operator is pushed towards the bar and the machine stops automatically. The safety gap provides a clearance for the operator.
---
Print this page