Smart lifting
wpg.com
P1 vacuum lifters are the most popular lifters from Wood's Powr-Grip and they just got better. Now all dual-vacuum models are equipped with WPG's Intelli-Grip technology. This computer-operated system makes vacuum lifters significantly safer, more intuitive and easier to maintain. Intelli-Grip efficiently manages the internal functions of the lifter and provides information to operators in real time via a colour LCD display. The system minimizes the risk of human error by continuously monitoring the lifter's vacuum and power systems, self-testing before every lift, and immediately alerting operators of problems before they become dangerous. The P1 Series still features the abilities that made it a glass-industry standard, such as lifting flat or curved glass and providing full rotation and tilt capability.
---
Powerful, durable controller
smartrigcranes.com
Microcranes now offers a wireless remote-control solution option for the 2,000-pound rated, 21-foot hook height M1 Global Model pick and carry crane used indoors, outdoors and on rooftops. Operators using wireless remote control can achieve greater visibility and accuracy so they can complete more lifts in less time while reducing operational costs and promoting more efficient use of manpower. The Rigmaster wireless controller from Winches Inc. will control the Microcrane M1 Model from more than 50 feet away, utilizing a superior FM-based signal at 915 megahertz. The rugged and durable design of the wireless control will float in water and the transmitter and receiver meet IP67 for weather protection. Its operation temperature range is -20 C to +50 C. When compact, the M1 Model hydraulic portable hoist fits through doorways and inside elevators for easy transport. The glass lifting equipment is used in installing, repairing and maintaining glass panels and windows. Products are ISO certified. Made in the USA. CE Certified. OSHA, ASME, PALD, ANZI and CSA compliant. No operator license is required under OSHA's small crane compliance (rated 2,000 pounds or less.)
---
Power and precision
quattrolifts.com
The Quattrolifts Vector 880, Vector 880 Off Road and Vector 1800 Off Road glazing robots can lift up to 880 or 1,800 pounds of glass. Now with the addition of a variable hydraulic speed dial to all models, Quattrolifts has solved two big concerns that glaziers face when operating large glass lifting machinery. Glaziers are often concerned that glazing robots are too jerky when micro-movement is required during the final installation. All Quattrolifts Vectors are hydraulic machines (instead of electric actuators) which are essential for smooth lifting. For the machine operator, the variable hydraulic speed dial simply adjusts the sensitivity of the existing controls, which in most cases will solve a huge headache with tight installations where precision is crucial. This will prove to be a real bonus when glazing into top and side pocket channels as well as with reverse glazing. The variable hydraulic speed dial allows installers to work with greater confidence, safety and higher efficiency. Quattrolifts also now provides the option of covered trailers for the full Vector range. The dual-axle trailers come with a spring-loaded fold-down ramp and a side entrance door allowing for tools to be securely stored. This new covered trailer will allow installers to hook up the trailer with their Vector glazing robot, drive to site and simply drive the Vector away once the glass installation is complete.
---
Transform any telehandler
ergorobotic.com
The Thom 2200 and 4000 are fork-attached adapters that turn any telescopic handler into a remote-controlled multi-axis glass manipulator. The Thom 2200 has a 2,200-pound attachment capacity; the Thom 4000, 4,000 pounds. Users can position the boom up to 90 degrees up and 45 degrees down, in or out. The load can be tilted up or down, swiveled left and right, shifted side to side or rotated. Ergo's EZ Pick technology and double redundant vacuum system makes loading the Thom easy and safe. Especially useful for the rough terrain of job sites, the Thom is limited only by the height and capacity of the attached handler. It grips any smooth material and operates independently of the handler by remote control.
---
Millimeter accuracy
glgcan.com
The GlassLift 500/1100 is an intelligent remote-controlled robotic multi-lifter with three-dimensional manipulation, sensor surveillance and remote repair diagnostics. It is a battery electric-drive model with 1,100 pounds of pick and carry capacity. It uses a radio remote control with variable speed selection and precision controls to millimeter accuracy, ideal for all types of glass and fire door installation. Contractors can reduce labour and avoid injuries, increasing jobsite productivity and fatigue. The GlassLift 500/1100 is easily transportable and fits into elevators.
---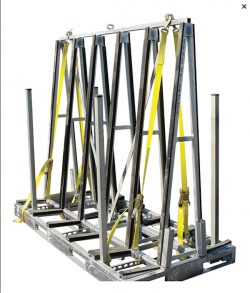 Safe transport
quattrolifts.com
Groves' heavy-duty transport racks include four hold-down ratchet straps to secure the load. The four adjustable safety posts provide for safe removal of unstrapped loads that may shift unexpectedly. The safety posts are stored at the end of the A-frame during transport. They have a 10,000-pound capacity and can handle glass loads up to 96 inches long by 48 inches wide by 88 inches high.
---
Superior comfort
quattrolifts.com
As a complete system with a smooth and precise rigid guidance or integrated in an existing crane system, the Easy-Lift from Bystronic is very customizable. As a big advantage, the insulating glass unit can always be suctioned in a way that its lower edge is completely horizontal when hoisted up, without manual intervention by the operator. The self-holding system of each pad is equipped with powerful Venturi nozzles which are responsible for the vacuum creation. Easy-Lift saves the operator time while adjusting the glass units. This makes the system work ergonomically and economically at the same time. Special use cases like feeding and removing glass units for IG sealing, tempering furnaces, pane turning, or screen printing are accomplished with highest flexibility for the operator. With Easy-Lift it is possible to have a quick and safe transportation of glass and other units with superior comfort.
---
Print this page