June 1, 2020 By Stats Canada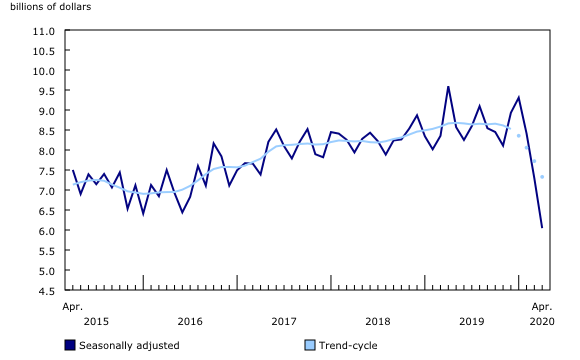 The total value of building permits issued by Canadian municipalities plummeted 17.1% to $6.0 billion in April. The decrease in April was the largest decline since a similar drop in October 2008 during the financial crisis. When combined with the March decline, the value of building permits has fallen by 28.1% from February levels.
Declines were reported in eight provinces, with the largest in Quebec (-34.1%) and Ontario (-20.0%). Although most municipalities were still issuing permits in April, Quebec's decision to shut down non-essential construction activity due to the COVID-19 pandemic led to it posting its largest month-over-month percentage decline on record.
Non-residential permits decline
The value of commercial permits was down 21.5% to $1.2 billion in April with the largest decline reported in Quebec (-56.6%), setting another record month-over-month percentage decrease for the province.
Industrial permits fell 34.7% to $377 million following gains in March, with declines posted in six provinces.
Major projects in the form of schools and nursing homes helped drive gains for institutional permits in some parts of the country. However, growth reported in six provinces failed to outweigh sharp declines in Ontario (-46.2%) and Quebec (-28.2%), which pulled the national total down 10.5% to $533 million.
---
Print this page