October 10, 2020 By Patrick Flannery
Jumbo IG fabrication
forelspa.com
The No Limits IG line by Forel meets all requisites for the ultra-large size and facade markets. Capable of managing the sheet curvatures, weights and stepped units required by the extra-jumbo format, the No Limits IG line goes beyond the restrictions of commercial architecture. It can process extra-jumbo units up to 12 metres in length and 3.3 metres in height with a capacity per linear metre of up to 350 kilograms for single panes and 550 kilograms for assembled panes, with thicknesses up to 40 millimetres for a single pane and 100 millimetres for an IG unit. The No Limits IG line can also assemble units with up to three chambers and is able to handle offsets up to 250 millimetres on the upper and lower edge and 1,000 millimetres on the leading and trailing side, thanks to the dynamic support of the coupled panes. Each machine that makes up the line is equipped with devices developed specifically to handle large dimensions, substantial weights and any non-planarity throughout every phase. The line can process both rigid and flexible spacer and the sealing robot can use up to three different sealing products in a continuous sealing mode, offering enhanced productivity.
---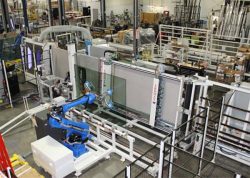 Unmanned IG line
erdmanautomation.com
Fabricators can reduce labour from four to six operators down to less than one and shift labour into areas demanding more critical thinking with Erdman automated IG lines. Fabricators can produce one five-by-10-foot IG unit per minute (or in 90 seconds with gas fill). The robotic work cell can be run around the clock and produce 1,440 units (non-gas filled) in 24 hours at 100 percent efficiency. Glass shops can save roughly half the floor space of an equivalently productive manual line. Erdman automated lines eliminate direct labour, which means safety because all the heavy lifting is performed by robots. They also produce cleaner IG because of reduced handling.
---
Self-dressing diamond drills
salemdist.com
The Thunder Cut from Salem Flat Glass and Mirror is a new generation series of stainless-steel body core drills that boasts the advantage of overall cost savings for the fabricator. These premium, high-speed, self-dressing diamond core drills are produced in multiple working lengths for both manual and CNC machinery from a variety of equipment manufacturers. The Thunder Cut series accomplishes superior process speeds. These increased feed rates result in cycle times that are reduced significantly (40 percent), which can equate to a time savings on average of 40 minutes to two hours daily. Additionally, with their specific bond design, the Thunder Cut core drills have achieved three to five times the life expectancy of standard drills, resulting in reduced maintenance and replacement costs.
---
Four-edge grinding
hhhtempering.com
Craft precision chamfers or remove edges and coatings with ease using this four-edge horizontal glass grinding machine from HHH Tempering. Fabricators can pair it with a horizontal glass washer, loading table and glass cutting machine to create a complete fabrication set-up. Designed for architectural glass, the grinder removes coatings and cleans rectangular glass edges. It includes an intuitive and convenient interface. The machine identifies size, thickness, width and position of the glass and uses an energy-efficient servomotor system.
---
Automated lamination
lisec.com
The LiSec PlusLam is a semi-automated and affordable lamination line suitable as an entry product. It is a standard line equipped with sophisticated machinery and laminating technology. This semi-automatic laminated glass line is distinguished by its manual interlayer placement and manual interlayer trimming. In combination with an accurate high-pressure autoclave, the PlusLam is suitable for the production of all common composite and laminated safety glass products. A variety of options in combination with the base line can increase the automatization level up to a fully automated lamination line. Depending on requirements, the PlusLam can be configured with a 1-Nip or, as an option, with a 2-Nip press if higher output is required. Operation is designed to be simple, smart and precise.
---
CNC work centre
intermac.com
Master One, Intermac's new three- or four-axis CNC machining centre for processing glass, executes a wide range of machining operations using the latest technology with no compromises on performance. Featuring a small footprint and ergonomic design, the Master One is suitable for both large companies that require high run-time for multiple shifts and smaller companies that require precision and ease of use. The Master One features maximum acceleration and axis speeds, effectively minimizing wait times and promoting quicker processing times. When it's enhanced with the optional pressure intensifier, 40 to 60 percent faster processing speeds can be achieved. The Master One is equipped to operate the revolutionary Diamut Helix tool that produces holes in glass, complete with integrated upper and lower countersinks for glass sheets up to ¾-inch thick. The Helix tool accomplishes it all using a single tool that requires no tool change. Like all Master Series machines, Master One is offered with the new Sophia IOT platform for monitoring production, identifying malfunctions and assisting clients with maintenance operations, replacement parts and preventive maintenance.
---
900 times more energy efficient
deceuninckna.com
Made from a revolutionary fiber-reinforced polymer (FRP), Innergy Architectural Products from Deceuninck deliver both structural strength and thermal performance – the best properties of aluminum and polyamide – for today's modern buildings. Moreover, it improves the thermal performance of commercial windows, doors, curtain wall and storefront systems without the need for a complete redesign. Innergy AP parts are custom-designed to fit existing commercial fenestration products and include pressure plates, structural thermal struts, reinforcements, and curtain wall components. The offering builds from Deceuninck's Innergy Rigid Thermal Reinforcements already used in window and door frame chambers for enhanced energy efficiency. Innergy Architectural Products replace aluminum and polyamide parts with customized fiber-reinforced polymer components that deliver up to 900 times more energy efficiency than aluminum. The material science behind Innergy AP is Deceuninck's Rovex technology – an advanced composite of continuous glass fibers and polyurethane polymer, which has been commercially available since 2012. The fiber-reinforced polymer has been tested on key performance attributes compared to traditional materials such as aluminum and polyamide.
---
Print this page