September 24, 2018 By Glass Canada Staff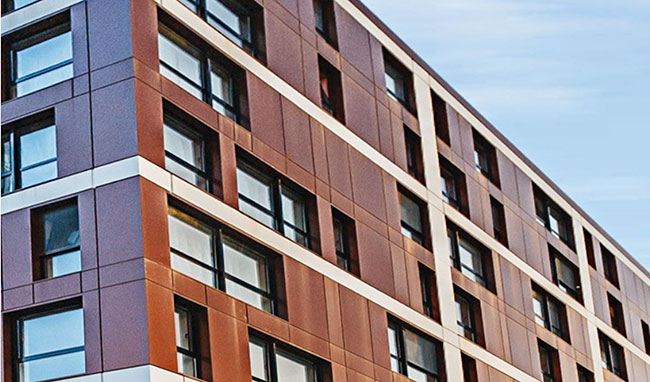 A look at what's new in curtainwall, store front and other glazed building facade components.
Longer thermal break
alumicor.com
The Integra 6000 integral rain screen system from Alumicor uses an integral design that allows for many configurations without the need for additional sub-frames. Fully fabricated by Alumicor, Integra gives designers the option to choose various depths of frame (2 3/8, four or six inches) with horizontal and vertical intermediates to create architectural detail. With a large size capacity, it's ideal for the institutional market, as well as commercial and residential. Available in fixed, awning, hopper, casement open-in and combination units, as well as large size capacities, Integra features a split finish for unique interior and exterior design considerations. The modern handle for open–in designs includes various finish options including grey, white, black and brushed stainless steel. Integra 6000 rain screen accommodates one-inch double-glazed sealed units with sloped sills for better drainage. Protected condensation drains allow water to escape to the exterior and concealed hinges offer sleek sight lines for open-in vents. Multi-point locking open-in hardware with polyamide connecting rods offer quieter operation. This advanced rain screen technology reduces the cost of caulking and backer rod installation and makes glass replacement easier. The polyamide thermal break is 23 per cent longer than other designs for greater thermal performance and increased resistance to condensation.
Optional insulating foam in the frame, sash and around the glazing delivers accredited laboratory-confirmed 10-per-cent-improved thermal system performance, as well as increased condensation resistance and acoustic performance. The system also incorporates a central gasket system with vulcanized corners for superior air/water performance and a true thermally broken open-out window adapter with no exposure to a cold air-filled cavity. Rated to NAFS-AW-PG85 for open–in and fixed installations.
---
Accessible entrance
crlaurence.ca
Accessibility is an important consideration in building design. To make specification easier for architects and designers, CRL-U.S. Aluminum has engineered a 1/2-inch low-profile threshold for its Series 900 terrace doors. The low-profile threshold is exclusively for single outswing Series 900 doors. The system meets accessibility standards and virtually eliminates floor-level protrusions to provide unobstructed passage for individuals using canes, crutches, walkers or wheelchairs. An optional 10-inch bottom door rail is available to further enhance accessibility. Despite the 1/2-inch low profile threshold, Series 900 terrace doors deliver exceptional protection against invasive weather conditions. The doors are AW-PG 80-ATD AAMA rated, and have been ASTM E331 and E547 water-tested. In addition, double weatherstripping within the doorframe mitigates air infiltration. Series 900 doors are equipped with several performance enhancements. For example, they're thermally broken and incorporate one-inch insulating glass to minimize heat transfer. Four-point stainless steel locking devices for single doors maximize security and meet AAMA 1304 forced-entry requirements. Series 900 terrace doors provide elegant, high-end esthetics and are well suited for applications such as condominiums, high-rise residential, mixed-use developments, hotels, and resorts. Several configurations are available including standard or low-profile thresholds; single or double doors (inswing or outswing); standard five-knuckle hinges and optional adjustable hinges; impact-resistant and acoustically rated models; and multiple door handle styles in premium finishes.
---
Variety of finishes
commdooraluminum.com
Series 8000 split capped curtainwall from Commdoor Aluminum is a thermally broken wall system 2 1/2 inches wide with glass sealed on both the exterior and interior surface. The mullion section comes in four-, 5 1/4- and 6 5/8-inch sizes. Profiles are stocked in mill finish and clear anodized finish with other anodized and paint finishes available upon request. The stock length is 24 feet by two inches. The split capped version is designed for screw port assembly. Users should refer to wind load charts for the maximum allowable span and consult a structural engineer for the final design. The fabrication and installation manual details anchoring requirements. 8000 Series is an exterior-glazed system that accepts 1/4- or 1/2-inch single glass or a 1-inch sealed unit.
---
Proprietary profile
azonintl.com
Azo-Core thermal barrier is a design concept from the AZO/Tec design department influenced by European technology, Azo-Core adapts the time-proven use of polyurethane foam as its thermal barrier insulator for aluminum fenestration. The unique high-density foam is strengthened by a mechanical lock profile, an exclusive Azon system for ensuring the integrity of the strength and adhesion of the foam to difficult-to-adhere-to finishes. Azo-Core is provided under the Azon warranty umbrella.
---
Two infill options
obe.com
Reliance curtainwall from Oldcastle Building Envelope is a high-performing, pressure-equalized curtain wall system. Zone glazing allows for exceptional water control and outstanding thermal performance, as well as straightforward fabrication and easy installation. It comes with two infill options. The one-inch typical infill system features snap-in adaptors to accommodate 1/4-inch infill for spandrel applications. Oldcastle also offers a complete 1/4-inch typical infill system for maximum utility and versatility. Both systems offer structural silicone glazed vertical options for two-sided applications. Reliance provides two gasket options. The standard option utilizes an EPDM dense gasket on both the interior and exterior sides. The optional configuration uses the EPDM dense gasket on the exterior and an EPDM sponge gasket on the interior to accommodate moulded corners when necessary. Other installation features include roll-over and roll-under horizontals to simplify typical field stick erection. Users can also opt for FRP pressure plates for the one-inch infill system – either horizontals, verticals or both – to maximize U-factor and condensation resistance factor ratings.
Window wall alternative
sotawall.com
Hybrid-Wall from Sotawall was developed as an alternative to window wall systems. Window wall systems can be architecturally limited and lacking in long term performance. Hybrid-Wall allows esthetic flexibility by allowing for larger expanses of glazing, flush external appearance (capless) and a variety of features and infill materials. In addition, Hybrid-Wall provides the exceptional weather and seismic performance of a pressure-equalized, rainscreened curtainwall. Hybrid-Wall is a 100 per cent fully unitized and pre-glazed curtain wall system in performance and appearance with the important distinction of being installed between floors similar to a window wall system. It is notched around the floor slab and allows the use of glass floor spandrels in lieu of slab edge metal panel covers. Because it is a true unitized curtainwall system, Hybrid-Wall uses a horizontal expansion assembly incorporating silicone gaskets, making the typical sealant joints between floor slabs and window wall systems obsolete. It also has fully integrated fixed and sliding anchors as part of the slab edge design, enabling easy installation while allowing for construction slab tolerances and vertical live load movements between floor levels.
---
Print this page