Features Codes and standards
Training at a distance – Glazier training organizations adapt rapidly to pandemic realities
Glass industry training and certification during – and after – a pandemic.
March 3, 2021 By Treena Hein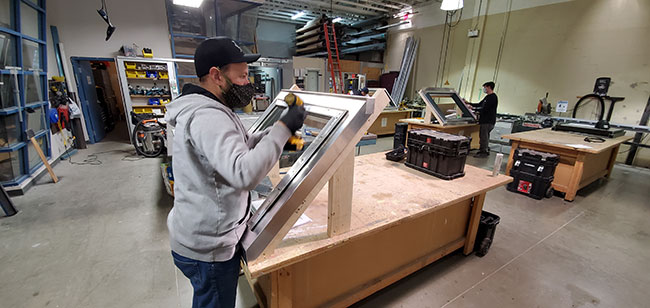 Among the vast number of things that COVID-19 has affected this year are education and industry certification in the glass industry and other sectors. To see how industry members have kept it rolling during the pandemic, we've checked in with organizations across Canada and beyond. We wanted to know, how is in-person and online learning working out? And will any uptick in online training and testing stay in place because it's more appealing to a younger generation of glaziers?
Let's start with the Finishing Trades Institute of B.C., where glazier apprenticeship training is normally offered in class sizes of 16. Three six-week sessions of classroom and shop learning are provided over four years, with each block (Level 1, 2 and 3) followed by time apprenticing on the job with a union or non-union glazing contractor. FTIBC is currently the only facility in B.C. that trains glaziers to the Red Seal standard.
Online learning was never a serious consideration for the FITBC in response to the pandemic. Director Patrick Byrne explains that the construction trades are so hands-on that online learning is neither practical nor wanted by the students. He adds that "apprentices need to understand in the training that the trades are hands-on physical work that often involves team work. You have to be a self-starter who is strong both physically and mentally in order to succeed. I meet regularly with other building trades directors of training, and they all agree that online trade instruction is very limited in what can be taught effectively."
Right before the lockdown this spring in mid-March, FITBC was lucky in terms of timing because a Level 2 glazier class had just finished. Byrne and his colleagues shut down all of the apprenticeship programs (glazier, painting, wall and ceiling installer and drywall finishing) and came up with a plan for when the government saw fit to loosen some of the restrictions. That came in mid-June, and they were ready.
Since that time, using various protocols, the FITBC ran four glazing classes, two level 1s, a level 2 and a level 3.  There has been no COVID-19 transmission. "Our protocols are working," says Byrne. "We reduced class size to eight and reconfigured some of the mock-ups so that they could be used individually. We have careful oversight by our instructor, Mark Longmore, we have hand sanitizer stations and do a lot of hand washing. We did constant cleaning at the start of the pandemic but as we've learned about this virus, it's more about mask wearing and social distancing than anything else. Mark has found training to be challenging in this new environment but has found ways around that."
According to Longmore, the most difficult part of training during this pandemic is the fact that students now must work on projects as individuals, whereas normally they would team up with partners on some of the more complex tasks. "The protocols that we currently have in place don't allow for the collaborative problem solving that used to take place between the apprentices during the course of the day and that's unfortunate," Longmore says. "However, on the upside, working individually can expose weaknesses that may have not have come to light as readily as when you have a partner there to point those out. This allows me to focus more on those areas of concern."
The FITBC apprenticeship programs are also now segregated so that each trade is isolated from the others. Normally, there are important and necessary interactions between the students in each trade, like on a job site, but now, each trade has its own shop, classroom, lunchroom and washrooms. "We shut down the free coffee and vending machines and now everyone brings their own lunch and coffee," says Byrne. "We will continue with this until the provincial health office gives us the green light on returning to normal. We've consistently had a 90 to 95 percent pass rate and despite COVID-19, that's continuing."
Online and in person
However, at FTI Ontario in Toronto, online learning has been used significantly since the pandemic began in March. "At that point, we were in the third week of a Level 3 eight-week class that had started out with 16 people," explains glazier apprentice, and health and safety instructor, Steve Laird. "We then started up online modules to cover another three weeks of class. These are the IFTI Learning Management System online courses that have been around for ten years and they are free to use. But then we had six students decide they didn't want to continue with the online learning. We had a lot of discussion with them, and we told them they wouldn't be able to come back for a while and they were fine with that. They are all now slotted in for January's Level 3 class."
The remaining 10 students were allowed to return to the building in mid-August to finish the practical part of Level 3. Laird explains that physical distancing is indeed an issue in Level 3 when the students work in pairs or groups of four, but in Level 1 and 2 the students pretty much work on individual projects. "It was actually good that the six didn't come back because with physical distancing, it would have been difficult to accommodate 16, but 10 was okay," Laird says. "We were pretty keen to get this group in because every student had all their apprenticeship hours and just needed to finish the practical Level 3 and write the exam. But at this point (early December), they still haven't been able to write their exam."
FTI Ontario also does certification courses for WHMIS, elevated work platforms, swing stages, forklift operation, hoisting and rigging, eight-ton and smaller cranes and so on, but they're on hiatus and Laird says it's not cost effective to create online versions. "United Rentals has online courses for forklift and scissor lift, with simulators in some places, and then you take the practical exam with them or one of their partners in more remote locations," he observes. "Use of this may expand in future and it's great but expensive."
This fall, FTI classes for each level have been kept to ten. The theory part of each level is proceeding online and for the practical part of each level, FTI is alternating two different levels between two parts of the building. Staff brought in a washroom trailer so that each group has its own as well as another fridge and coffee machine.
Laird believes the online courses are working well in that students can do them at the speed they want and keep the course material for reference. "They get to see the theory in action when they come in for the practical, and it's working OK," he says. "I get a lot of questions by email and we work through them. But you don't have the discussion you have in person. When we are in the same space for the practical, there isn't as much discussion either because it's not worth the bother with a mask and it's tough enough to ask questions. It'll be great to be back to normal. Our classes are filling faster because they are smaller and waiting list is growing."
Online goes in-person
The story of how the pandemic has shaped online and in-person learning is quite a different one for Administrative Management Systems. This U.S.-based company administers the North American Contractor Certification program for glazing contractors in Canada and the U.S., and in 2019 started the Architectural Glass and Metal Technician certification program for individual glaziers. 
To understand this, we need to know how certification went before COVID-19's arrival. At that time, there were only a few support materials available to contractors in terms of learning about the program's quality management requirements and their benefits. "Very few companies used them," says AMS's Ben Beeler. "Due to the pandemic we had excess time on our hands and we realized we could create resources to bridge the disconnect between how contractors currently addressed quality in their business and how they could be benefiting from implementing the program requirements for certification. So, we developed a free, online workshop and started offering it to individual contractors, an introduction to quality management processes and their benefits. One, two or three people from the contractor company sit down with us virtually, and it's a great way to answer all their questions and explain everything."
Pretty soon, however, companies were asking for further workshops to delve into the various aspects of the quality management requirements. AMS then developed five more, four on specific elements of quality and one on safety. "We had no idea how popular it would be," says Beeler. "We thought we'd have to talk people into having the initial workshop. And while most of the workshops are done with companies going through the initial certification process, we've been shocked that companies already certified wanted to have workshops, to further improve their quality management and ask questions. During the workshops they're presented with lots of examples of how quality management processes and procedures might be put in place in their business, which is the biggest part of certification."
These workshops, says Beeler, have cut the certification timeline for participating companies roughly in half. "If we had known this before, we'd have put the workshops in place long ago," he says. Indeed, the existence of these online workshops has caused AMS to think about offering them in person as well, in various cities after the pandemic is over, to a large group of representatives from different companies. [Glass Canada readers will have a chance to take part in one of these workshops for free at Top Glass on April 21. – ed.]
AMS rolled out AGMT certification for individual glaziers in 2019 and had planned its first in-person testing session in Canada in spring 2020. The certification test involves a written test to assess a glazier's knowledge as well as a lengthy physical test to assess their abilities. Beeler explains that normally, the written test is done on a laptop with a proctor present in a group setting. But since the pandemic, AMS has offered the test to individuals in Canada and the U.S. through a service that administers the proctoring remotely. That is, to take the test, the glazier sets up his/her computer's webcam before logging into the test and also sets up a second camera (generally on the applicant's cell phone) that allows a proctor to view the student from the side. Beeler says however that classroom testing will likely resume after the pandemic as it's easier and more comfortable for the applicants. •
---
Print this page
---
2 Comments » for Training at a distance – Glazier training organizations adapt rapidly to pandemic realities