September 29, 2016 By Glass Canada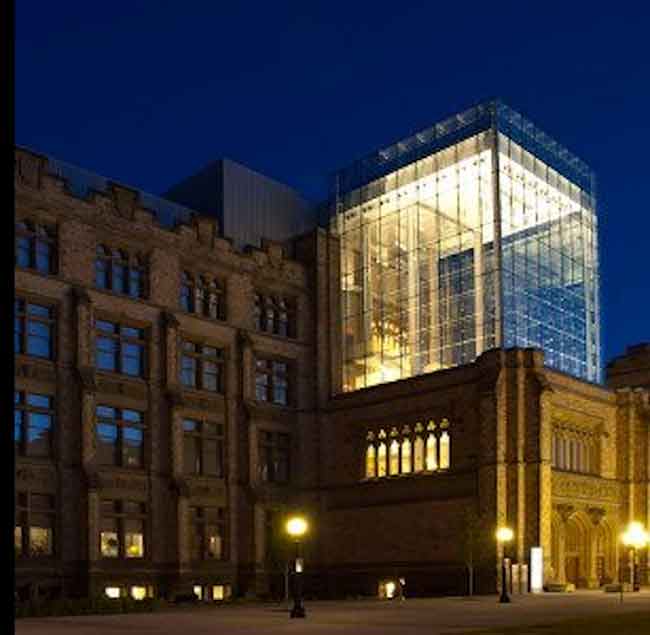 Here are top suppliers you can work with to achieve incredible feats of glass architecture.
Absorption of loads
pilkington.com
The fittings in the Pilkington Planar system offer the ideal balance between durability and appearance. All are manufactured from 316 grade stainless steel and some of the most durable engineering plastics currently available. Highly engineered and tested components allow Pilkington Architectural to offer the smallest, most aesthetically pleasing fittings available without compromising performance. Specially customised fittings are available subject to design assessment and approval. The 902 fitting connects indirectly to the secondary structure by means of Pilkington Planar spring plate brackets or castings. The 902 can accommodate any angle of slope, making it ideal for roofs and canopies. The 905J fitting is the most popular Pilkington Planar fitting. It eliminates the need for spring plates and allows absorption of live loads and thermal expansion by rotation around a stainless steel rod connected to the back up structure. The Planar cast springplate provides the opportunity to customise and innovate. Pilkington Architectural engineers are able to develop new stainless steel connectors by use of 3D CAD and finite element models. Designs can accommodate large lateral movements and high loads from the glass panels. These connectors allow the designer to tailor the aesthetic of the façade to their individual requirement, whether that be a subtle detail or a bold design statement. Four and two point castings (e.g. Nexus) are some of the many types of stainless steel connectors designed to connect the glass fitting to the back-up structure whether structural steel or glass mullion.
---
Three-sided standoff
stellaglasshardware.com
Stella believes that projects shouldn't be changed to work with the limitations of the parts. Hardware should always evolve to meet the project's needs.
Working with designers and creating new parts from scratch inspires the work Stella does. A bold and visionary architectural design requires components that allow it to function and look exactly as it was imagined. Stella's custom approach is reserved for those projects that are setting new precedents, and that simply can't be specified from a catalogue. For example, the Stella corner standoff is a needed element on many glass boxes. It functions to connect glass at three planes and is an alternative to a heavy-looking bar support. This custom stand-off provides structural rigidity in glass corner situations where needed and maximizes transparency. These are always bespoke parts created to the exact dimension of the project's corner.
---
Stainless steel
jeberkowiz.com
JEB Invisiwall point-supported hardware is suitable for vertical walls and canopies. To ensure quality, all point-supported system hardware is fabricated from 316-alloy stainless steel and is available in satin and polished finishes. Rotule fittings can be fixed or articulated, reducing stress at holes to minimize the possibility of breakage. Rotule heads can either be countersunk or have a surface disk.
---
Maximum transparency
nupress.com
As a next-generation designer and manufacturer of structural glass facade systems, Nupress is committed to the continuous upgrade and technological advancement of its company and people. Nupress employs the latest design, engineering and manufacturing technologies to produce state of the art, custom manufactured hardware to meet the most demanding facade design requirements. Forward-thinking design professionals are given the freedom to design tomorrow's structural glass walls. Design and development of products is focused on delivering satisfaction and engineered solutions that enable as well as compliment the architectural intent. Nupress' unique position as not just the designer but the actual manufacturer of our products sets it apart from competitors and allows architects unprecedented design freedom. Pictured is the Bay Adelaide East project in Toronto.
Designed by KPMB Architects, Bay Adelaide East comprises a 44-storey office tower with a six-storey podium that connects to an existing building at 132 Yonge Street. The Bay Adelaide East Tower lobby is designed with 30-foot ceilings and low-iron structural glazing. The sophisticated and contemporary ground floor lobby is vibrant and spacious, with an abundance of natural light. During design meetings the architectural team expressed a desire to have a very transparent wall with no holes in the glass. To meet the architect's design intent Nupress designed and manufactured the Nu Ledge Stacked Structural Glazing system using an integral shelf system to support face lights. The system requires all fins to be fully tempered and multi–ply laminated. Laminated fins are supported via top and bottom wind load shoes/anchors. The 12-mm face glass is supported via dead load blocking at the sill and two intermediate shelves, in addition to being continuously structurally siliconed back to the laminated fins.
---
Multitude of options
flynncompanies.com
Structural Glass Wall Systems gives Flynn clients a multitude of design and performance options. Walls can be heavy tempered single-glazed; double- or even triple-glazed insulated glass; top-hung with vertical glass fins; vertical and horizontal metal truces; post-tensioned cable supported; or a combination of various other custom applications. In all cases the final result is wonderfully large expanses of total vision glazing. The lack of bulky metal support systems help create beautiful lines of sight to both the inside and outside of the building.
---
Complete engineering package
obe.com
Point-supported canopies and facades are comprised of stainless steel spider fittings and tempered glass to resist wind load and snow load requirements. Glass attachment fittings are designed to flex when the glass is under loading to reduce stresses in the glass at the fitting connection's. Spider fittings are typically bolted to a steel back-up structure. Oldcastle BuildingEnvelope has extensive experience in the design of structural glass systems. It offers custom-design and engineering capabilities for all structural glass applications for any design development needs.
Oldcastle BuildingEnvelope provides complete engineering and shop drawings for structural glass systems as a complete package to customers. All engineers are licensed in their jurisdiction with extensive knowledge of glass structures. Oldcastle BuildingEnvelope can review steel requirements on a project-by-project basis to determine feasibility. Oldcastle BuildingEnvelope point-supported systems can incorporate insulating glass with or without low-E, laminated glass or monolithic tempered glass.
---
Print this page