Optimal bird protection
sedak.com
Maximum transparency, optimal bird protection are the qualities Sedak promises from its new bird-protection printing on glass. Large-area glazing on buildings – regardless of how heavily structured it is – brings with it the risk of not being seen by birds. Reflections of trees or particular lighting conditions cause danger for birds as they have only limited spatial vision. The idea is simple: make glazing recognizable for birds without compromising the view for humans. Sedak has managed to achieve optimal collision protection, reducing collisions to 10 percent, while printing on less than two percent of the glass area. This has been confirmed by a scientific analysis performed by the internationally recognized institute, Collision Laboratories in Austria, which specializes in bird protection. The scratch and UV-resistant patterns are put onto the glass using digital printing. When it is further processed into laminated panes, the printing is on the outside. With Sedak's technology, insulation and safety glass with highly effective bird protection can be created up to a format of 3.6-by-20 meters.  The print comes in dots or squares variations that are arranged in a simple grid. Sedak also offers printing with precious metal colours. The printed image and colour tone have a discreet, elegant and esthetic appearance. The printing is also ideally suited to sophisticated architectural design.
---
Access ability
kawneer.com

Kawneer recently introduced an ADA-compliant operating handle option for its Glass-vent ultra-thermal project-out windows. This new option provides a solution to meet the Americans with Disabilities Act recommendation that operable windows require no more than a five-pound operating force while also providing a coordinating handle for non-ADA applications. It also features an esthetically pleasing design. The Glassvent windows are designed to provide fresh-air ventilation while maintaining thermal performance in curtainwall or storefront applications. With the new operating handle, the indoor air quality benefits of the Glassvent design do not have to be sacrificed to meet ADA requirements. The operating handles are laboratory-tested and come with an easy-to-operate horizontal handle configuration, which comes in two sizes: a 12-inch handle size for ADA compliance and an eight-inch handle size for other non-ADA applications. The new design option incorporates the Omni Drive operator from Caldwell. The easy-to-use horizontal handle movement provides smooth, single-hand operation from the inside, while maintaining sleek, exterior architectural sight lines. The new ADA-compliant design provides an excellent solution for architects, engineers and designers who are required to specify windows with hardware capable of meeting the operating force and limited motion requirements or are looking for more inclusive designs. The Glassvent ultra-thermal windows are also tested for air, water, structural, thermal and condensation performance. 
---
Real thick glass
agc.com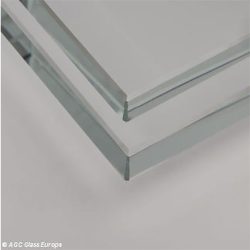 AGC introduced two new thicknesses in its low-iron float glass range: Planibel Clearvision 15-millimetre and 19-millimetre. AGC's Planibel Clearvision line is already used by architects and designers in projects that demand great transparency and the new products deliver the crystal-clear vision and total clarity count that AGC is known for. With the introduction of two new thicknesses, the Clearvision range now offers a wide variety of thicknesses ranging from three to 19 millimetres, enabling top designers and furniture makers to work with thicker low-iron glass for larger pieces. Planibel Clearvision is produced in Boussois, France and Cuneo, Italy. For the 15- and 19-millimetre versions, a special technology is used to ensure perfectly uniform thickness, making the glass easier to process (cutting, laminating, etc.). The product's neutral colour is the same in all thicknesses. Planibel Clearvision is Cradle-to-Cradle-Certified Bronze. By committing to C2C standards, AGC can deliver high-quality products while protecting people and the environment. More than 75 percent of AGC's products are Cradle-to-Cradle Certified.
---
Versatility
guardianglass.com

Guardian Glass North America introduced its Guardian Bird First etch glass. It comes in four distinct bird-friendly patterns made for exterior building applications. This is the latest addition to Guardian's lineup of bird-friendly products, giving architects additional options to achieve different esthetics, maintain optimal glass performance and reduce the likelihood of bird collisions with windows. It's all about flexibility with Guardian's coated-glass lineup, which makes four different patterns on translucent glass. Guardian Bird First etch glass also includes threat factor scores to quantify collision-avoidance effectiveness. The products are available on Guardian's UltraClear low-iron glass and standard clear glass and are meant to be paired with Guardian SunGuard SuperNeutral 68, SNX 62/27 and SNX 51/23 coatings on the same lite of glass, as part of an insulating glass unit. The glass can be heat-treated and used with laminated glass for safety and other benefits. Guardian Bird First etch glass is currently available in 96-by-30-inch sizes on six-millimetre-thick float glass through the Guardian Select Fabricator network.
---
For the R-value
vitroglazings.com

Vitro Architectural Glass has launched VacuMax vacuum insulating glass. The new vacuum-insulating glass units integrate traditional and advanced glazing systems to deliver great R-values with exceptional insulating performance. Vitro Glass gained an exclusive-rights agreement from LandGlass and VIG Technologies that made Vitro the exclusive provider of their high-performance tempered vacuum insulating glass products in North America. The new 8.3-millimetre tempered VIG units consist of two fully tempered lites of glass separated by a non-leaded metal seal and a vacuum space. The units' slim construction and light weight allow them to be incorporated into virtually any traditional glazing system, window frame or curtainwall application. The units can enhance the performance of any insulating glass unit by significantly improving thermal efficiency, delivering insulation performance that is two to four times better than conventional insulating glass and six to 10 times better than standard monolithic glass. The units deliver an R-value of 14, which is closer to the R-value of a traditional wall than glass. The improved R-values will help with incentives to minimize environmental impact, from the new stringent energy code updates to net zero energy goals. The units are available with Solarban 60 solar control low-E coatings by Vitro Glass, which can further enhance the energy efficiency of the insulating glass unit. Vitro's units can be used alone as a replacement for monolithic glass or as a substitute for the interior lite in a traditional one-inch insulating glass unit, where it forms a second airspace and creates a hybrid IGU that can achieve an R-value of 16. The units also deliver better noise abatement and eliminate condensation. 
---
Print this page