July 30, 2019 By Glass Canada Staff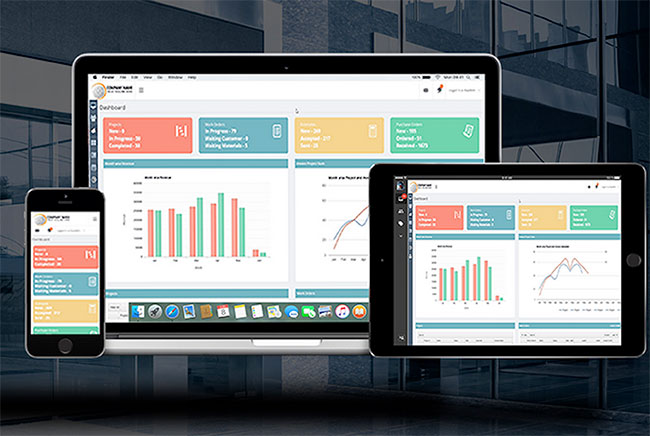 Check out these new products for BIM modelling and managing your business.
All aspects covered
smart-builder.com
SmartGlass from Smart Builder includes a dedicated dashboard that allows teams to customize their widgets to monitor key metrics relating to their role. For example, an accountant may have "jobs ready to invoice' at the top of their dashboard, whereas the business owner has "bids won" and "bids lost" for the month. Users can see at a glance KPIs to keep a pulse on the company; quotes, orders and invoices, which are conveniently grouped as draft, ready, complete, overdue and paid; and site photos, means anyone in the company can see what is going on with jobs. Using the job diary, users can pin important notes to the top of the job diary to ensure they don't get missed; upload photos and documents from the office and from jobsites; review the full history of job status changes in chronological order; and search the diary to quickly find important details. The scheduling screen allows anyone on the team to see what is going on and to easily communicate changes with installers and customers. Supervisors can manage staff, vehicles or workshop stations; assign multiple staff to a job; easily email customers to confirm and change appointments; see when materials for installation have been received; and report on time quoted vs time spent. Integration with Google Calendar and Office 365 means users can update the schedule with the click of a button and installers can see where they need to be right on their phones. Smart-Toolbox can quote any glass or glazing job, including showers, shopfronts, railings, mirrors and window replacements. Time-saving features include a built-in glass designer that auto-calculates prices as the designer draws. The toolbox can set up standard jobs and templates and quote revisions and options. Users can add colour pictures to quotes and email them directly to customers. Smart-Glass can be used to to draw up panels for quotes and orders. Whether it's glass for mirrors, showers, partitions, railings, table tops or windows, the software is fast and easy to use
---
Streamlines accounting
glassfabricationsoftware.com
GlassTrax is designed to be complete and affordable glass software. Complete sales orders can be filled out quickly with added notes and comments. Users can add processes and fabrication work to give a complete price to customers. They can select shapes from the optimization software's library of shapes then send the order directly out to optimization software. GlassTrax can add attachments to orders and specific lines then email, fax, or print the sales order, confirmation and invoice directly to the customer. GlassTrax can track how much glass has been processed in a day, week, month, or year. Users get real-time updates on order status to find out where bottlenecks occur. Efficiency is improved by setting capacity thresholds to create production schedules. Plant mangers can find out the value of the scrap and get detailed reports on recuts. GlassTrax has the ability to import customer orders from a variety of formats. Importing orders eliminates double entry and cuts down on miscommunication between customers and order entry personnel. Importing orders from customers streamlines operations, saves time and allows for better customer service. Purchase orders are created in just seconds. Users can keep track of inventory that arrives in a damaged condition. Email, fax, print, or upload purchase orders to send them directly to vendors. GlassTrax allows users to create purchase orders directly from the sales order screen when they need to buy out an item they do not carry in stock for a customer, eliminating double-entry. Inventory control and sales order processing is simplified with GlassTrax. Pricing can be set by specific customer, customer type, product type, category type and more. GlassTrax can help accurately manage inventory in real time with automated reminders to purchase more inventory when specific inventory items are running low. All accounting can be managed right from GlassTrax. The software was written by an accountant who understands how to make bookkeeping clean and simple. Users can create invoices and credits in a few simple steps; review customer accounts; pay bills and print checks with just a couple of clicks.
---
Full visibility
glassmanager.ca
GlassManager allows glass professionals to prepare accurate estimates and professional quotes quickly using pre-defined estimate templates. Descriptions of materials and services can be saved and repeatedly used to create consistency among staff from one quote to the next. GlassManager can schedule tasks each day and assign them to staff. Calendar views allow managers to easily see jobs being worked on and to see upcoming jobs to prepare material orders and schedule staff who handle fabrication. The GlassManager team works with users to import details and pricing information for materials. These details are included in all documents produced by the software including estimates, invoices and PO's.
Users can set up details for all vendors and easily create and issue purchase orders. Purchase orders can be assigned to jobs to easily match costs against every project. Field staff can log time against jobs on their computer or mobile device while on site. Hours captured on billable projects are instantly calculated for future invoices. By tracking time against jobs, managers and owners can accurately measure profitability and staff productivity on every job. GlassManager provides a consolidated view on every aspect of all jobs to increase efficiency and offer total visibility on the business. Users can see project status, who's been assigned, hours tracked and all documents associated with each job. Standardized material descriptions and hourly staff costs are automatically captured for invoicing so any employee can prepare professional invoices quickly so there aren't payment delays. Owners can have completely visibility into the business with a real-time dashboard and easy-to-produce reports that help them assess profitability and staff productivity.
---
Interprets PDF
autodesk.ca
Revit building design software from Autodesck can be used for every phase of projects from concept to visualization. It incorporates BIM tools, capture-and-communicate concepts and precise design intent. Users can place intelligent elements like walls, doors, and windows. Revit generates floor plans, elevations, sections, schedules, 3D views and renderings. Users can optimize building performance early in the design process, run cost estimates and monitor performance changes over the project's and building's lifetime. Revit generates photorealistic renderings. Users can create documentation with cut-aways and 3D views and stereo panoramas to extend designs to virtual reality. Since Revit is a multidiscipline BIM platform, users can share model data with engineers and contractors within Revit, reducing coordination tasks. Designers can insert a PDF into Revit from any source and snap to the PDF to model new elements based on the 2D data.
---
Print this page