August 18, 2020 By Mario Cywinski
In what seems like ages ago, in January, Ford Motor Company held a drive event for its all-new Super Duty pick-up truck in sunny Arizona. Much has changed since that time, and as a result Ford held a virtual launch event for its most important vehicle, the all-new 2021 F-150 pick-up.
Actor Denis Leary hosted the event, held at the former Willow Run plant in Michigan, which is significant for being where Ford build the B-24 Liberator bomber plane during the Second World War, in a mile-long assembly line. Ford representatives and select Ford customers also helped launch the vehicle.
The Ford F-Series has been the top-selling pick-up truck in Canada for 54 years, and more recently the top-selling vehicle period for many years in both Canada and the United States. While some would take it easy when being on top, Ford chooses to do the opposite. Ford introduced the EcoBoost turbocharged engine to the line-up when V-8 powered trucks were the norm, more recently, Ford introduced an aluminum body on the F-150 at a time when steel was thought to be the only option.
"Since 1948, our hardworking F-Series customers have trusted Ford to help them get the job done," said Jim Farley, Ford COO. "F-150 is our flagship, it's 100 per cent assembled in America, and we hold ourselves to the highest standard to make sure our customers can get the job done and continue to make a difference in their communities."
Now the 2021 model is taking things a step further, with the F-150 being available with a hybrid powertrain for the first time. Playing off the EcoBoost name, the new hybrid model is named PowerBoost and combines the 3.5 litre EcoBoost engine (mated to a 10-speed automatic transmission) with a 47 horsepower (35 kilowatts) electric motor, and a 1.5 kW-hr lithium-ion battery. The new hybrid model is capable of going an estimated 1,100 kilometres on one tank of fuel, and can tow at least 12,000 pounds (when properly equipped). The hybrid model is available on all trims, XL to Limited.
PowerBoost also comes with Pro Power Onboard, which turns the truck into a mobile generator, eliminating the need for a generator to be placed in the bed of the truck. The integrated on-board generator is available in three levels. A 2.4kW system with two 120V 20A outlets (with a run time of 85 hours on a full tank) is standard on the PowerBoost; a 7.2kW system with four 120V 20A outlets and a NEMA L6-20 240V 30A outlet (can run for 32 hours on a full tank) is available on PowerBoost; and a 2.0kW system with two 120V 20A outlets is available on 2.7L and 3.5L EcoBoost and 5.0L V-8 models.
In addition to the new PowerBoost powertrain, five other engine options are available. A 3.3L V-6, 2.7L EcoBoost V-6, 3.5L EcoBoost V-6, 3.0L Power Stroke V-6 diesel, and 5.0L V-8. Horsepower and torque number will be released at a later date. All models are mated to a 10-speed automatic transmission.
With the truck being redesigned inside and out, the front end sees a new front fascia, choice of 11 grilles, three headlight options (halogen, LED, LED with bending), 13 wheel options, and addition of active grill shutters and an active air dam. Ford says that every panel on the truck has been redesigned.
Glazing contractors use their trucks to tow trailers, so Ford's new trailer-friendly features are of interest. These include trailer theft alert, which sends a message to a mobile device when the trailer is being unhooked and the truck is locked; trailer light check, which can check if trailer lights are working through FordPass app; and trailer reverse guidance, that shows various views along with steering wheel graphics of the trailer by using five cameras. Pro trailer backup assist is also available.
Technology is top of mind for many today and a plethora of new additions to F-150 for 2021, highlight this. Over-the-air updates, which allow for many updates to be done in the background, while larger updates can be scheduled when the owner wants, reducing the amount of downtime needed for updating the vehicle. The new SYNC system can connect Apple CarPlay, Android Auto, and AppLink apps wirelessly. Two centre stack screen sizes are available for 2021, standard eight-inch and available 12-inch. An available 12-inch digital gauge cluster is also added.
"We see it as our duty to deliver not just what our customers want and need, but what they might have never thought possible," said Craig Schmatz, Ford F-150 chief engineer. "The F-150 will be tougher than ever, and with fully connected over-the-air updates, it opens up a much wider range of potential enhancements – from predictive maintenance to feature upgrades."
Ford has spent a lot of time speaking with its customers about how they use their trucks. As a result, Ford has incorporated some unique features into the new truck. On the inside of the truck, you can find lockable fold-flat rear under-seat storage with dividers; available front seats that fold flat 180 degrees; and available flat surface in centre between seats, as the shifter folds down, and a flat cover folds over the centre. On the outside, zone lighting allows for individual exterior lights to be turned on/off; clamp pockets are built into the tailgate; as is a new work surface that includes a ruler, pencil holder, mobile phone holder, and cup holder; and the side of the tailgate now has cleats for tying down long items.
Ten new driver-assist technologies are added for 2021, including Active Drive Assist, that allows hands-free driving on Canadian and United States divided highways, by having a camera facing the driver and making sure they are focusing on the road. Intersection Assist, detects oncoming traffic while driver is doing a left turn, and will apply brakes if needed. Active Park Assist 2 is also new. Ford has also made more safety features standard on all model from XL up.
With all the changes to the Ford F-150 for 2021, the company is poised to continue to be the number one selling pick-up truck for years to come. New F-150 models will be available in the fall.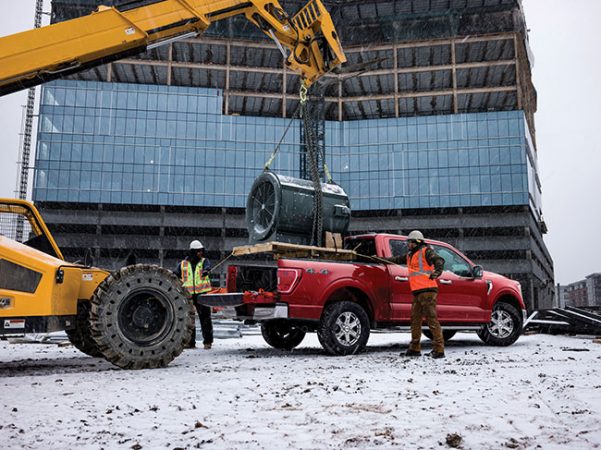 WHAT'S NEW FOR 2021
All-new interior and exterior
PowerBoost hybrid model
Clamp pockets on tailgate
Tailgate work surface
Max recline seats
11 grilles options
13 wheel options
12-inch digital gauge cluster
12-inch landscape centre display
SYNC 4
More driver assistance technology
Lockable rear under seat storage
Interior work surface
Pro trailer backup assist
Trailer reverse guidance
Trailer light check
---
Print this page